June 13, 2021
After long suffering and great arrangements from the leadership of the Corporation represented by Dr./ Mohamed Alawi Amzraba, the Executive Chairman of YGAPC and his deputy Eng/ Abdulrab Al-Khulaqi, as well as the technical, financial and administrative committee, the marine tugboat "Wadi Hatib" sailed this afternoon, heading to the Port of Djibouti to perform maintenance work for its main and subsidiary engines, in addition to the two propulsion systems and many necessary repairs to enable the tug when returning to perform its tasks with its designed capacity.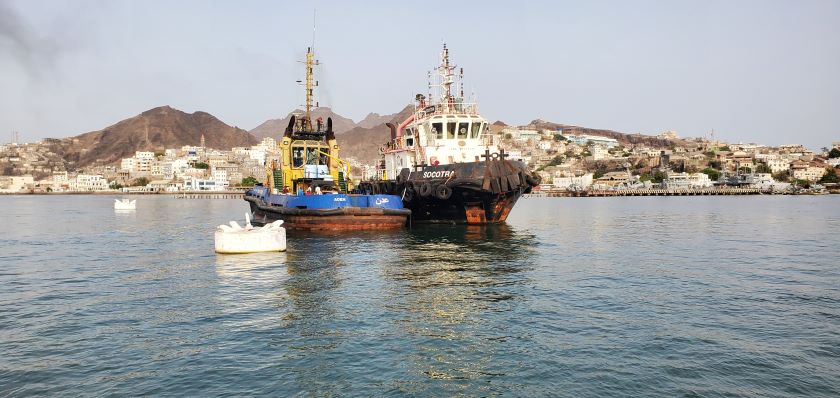 The Corporation had conducted a previous successful experiment in Djibouti for the tugboat "Wadi Hassan", which is the backbone of the towing service in the port of Aden today. The tugboat "Wadi Hatib", upon its return, will contribute to alleviating the current pressure on the tugboat, "Wadi Hassan".
The sailing process is carried out with the help of the marine tug of Aden Refinery Company "Socotra", which is towing the tug "Wadi Hatib" and it crossed today the breakwater by five o'clock in the evening and is expected to reach the port of Djibouti tomorrow afternoon, God willing.
The technical supervisory team will also leave by air after two days to follow up on the maintenance work that is expected to be completed by two international companies (Wartsila and Kongsberg) within three months of continuous work.